FACT: According to a Gallop Poll Survey, more than two-thirds of Americans are not secure they will have enough money to live comfortably when they retire.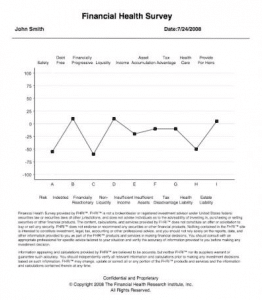 FINANCIAL PLANNING SOONER RATHER THAN LATER IS A KEY ELEMENT TO AVOIDING FINANCIAL DOWNFALLS.
The Financial Health Survey, charts your answers to 55 questions onto a simple graph giving a comprehensive view of the state of nine areas of your financial planning. This is a simple, precise way to see what areas you are sufficiently planning for and which need attention.
Like an x-ray you can see in one snapshot your financial planning scene and help detect if there are any significant problems. By fixing it right away you have the opportunity to ensure your financial future is secure.
Normally, you would have to consult with no less than seven financial professionals to get as complete a picture as you do with the Financial Health Survey results. With the results from this survey you will know which areas you need to address, and will then have a knowledge of which financial professional you should consult with.
This survey is a diagnostic tool which gives a basic view of your financial plan. It acts as a guideline for your benefit but not with 100% accuracy.
The Financial Health Survey is available from F&H to consumers at no cost. To access the Financial Health Survey sign up today.