Feel Secure Working With an F&H Professional Member
Do you need to know where to go when you have questions regarding your financial future? In this day it is hard to know who to trust! F&H does the work of finding an ethical competent financial advisor for you.
F&H's Professional Membership Program allows you peace of mind when working with a licensed F&H Member. Our financial advisors are evaluated in relation to a strict code of conduct, must pass a thorough background check and posses the required license with the Department of Insurance.
F&H Professional Members are the only financial advisors authorized to deliver F&H educational resources and web tools, free-of-charge to consumers.
After reviewing a consumer's financial plan, F&H Members may offer recommendations or suggestions only when needed and requested by the consumer. It is important to note that there is never any obligation when consulting with an F&H Member.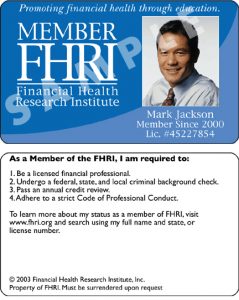 F&H Professional Membership Requirements
Code of Professional Conduct
Each F&H Professional Member must agree to adhere to the following Code of Professional Conduct:
I do hereby promise to:
Conduct myself in an ethical, competent manner with clients, prospects, and colleagues.
Be truthful when explaining products and concepts.
Accurately and truthfully disclose my affiliations.
Strive to provide the best professional advice through study, training, continuing education, and professional collaboration.
Act in the best interests of my clients and only present products and solutions, which are intended to improve their particular financial situation.
Never make disparaging remarks about competitors, their businesses, or their business practices.
Comply with all laws, regulations, and F&H standards governing my actions.
Provide my clients with sufficient materials and resources to support any advice I recommend.
Keep client matters strictly confidential.
Strive to supply better service to my clients than is expected or required.
F&H ensures that these conduct guidelines are adhered to by each member, and violations could result in membership denial.
Criminal Background Checks
F&H ensures that each applicant to its Professional Membership Program passes a local, state and federal criminal background check. The Institute only grants membership to those applicants who have demonstrated the highest level of professionalism and ethics throughout their careers.
License Check
It is essential that any financial planner consulted possess the required licenses as issued by the Department of Insurance. F&H ensures not only that its Professional Members have their license but only that it is maintained and in good standing at all times.
F&H also assists its members with attaining and completing any continuing education requirements.
F&H Professional Member Resources
Educational Materials
F&H Professional Members have access to a wealth of education materials and brochures, to help offer consumers while working with them. These materials are offered at no cost to the consumer by your F&H Professional Member.
Financial Web Tools and Calculators
F&H has devised a host of financial web tools and calculators to assist the consumer to have a better understanding and take control of ones finances. These tools are free of charge, and a F&H Professional Member is specially trained on how to utilize use and will register and set-up their clients at no charge to be able to use these tools.
Training
F&H provides it's members with on-going training programs to ensure they are up-to-date on the most current laws, regulations and financial planning strategies. This way you'll know your advisor is qualified to educate you about your financial plan.
Mentoring
Mentoring is available to F&H Members at no cost. F&H has a large membership of financial professionals possessing a wealth of experience in helping with consumers achieve financial securtiy. Their knowledge and care is shared with other members so that each F&H Professional Member is able to provide sound financial solutions for their clients.